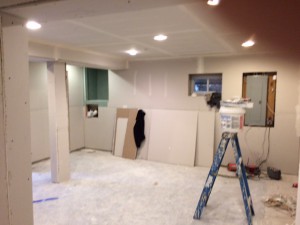 Having a finished basement is a desire for many homeowners, especially if the house could really use some additional space. For use as an entertainment center, playroom for the kids, or even a pool and sauna, this can be a big dream that is easier said than done. The basic steps outlined below will help you ensure your basement remodeling is a success and becomes one of your favorite places in your house.
Plan Out Your Design
As with most home remodeling jobs, having a well thought out plan before beginning a project, that likely has a limited budget, is imperative. Make sure you do not do unnecessary work or make a mistake that could set you back many months. If you do not have construction skills, it's often best to hire an experienced contractor as they will understand what is possible and worthy of your investment with the space you have.
Waterproof and Insulate For the Future
Many basements have one or two problem areas that leak during storms. Your basement remodeling is the time to fix those, so mold doesn't become an issue down the line, and your foundation remains strong. Look for a home remodeling company that can finish the basement with the style you're looking for, that also specializes in waterproofing. Insulation is another key factor, especially for basements which have never been used for living space. This is not only important for keeping the space a nice temperature, it also prevents condensation from forming on the walls.
Finish with Style
Whether you're finishing the basement or just updating, it's often ideal to match the renovation with your needs while also increasing your home's value. If you ever decide to sell, it's nice to know your investment was worth a little more than additional living space.
There are many other details you will need to consider when planning your basement remodeling. For your peace of mind, hiring an experienced renovation and remodeling company is the best way to complete your project. It will be finished in a reasonable amount of time, be done right the first time, and your budget will be used in the most efficient way possible.