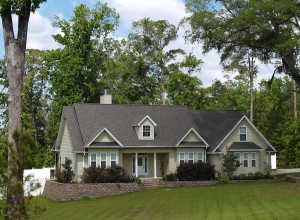 Depending on your property may need to think about how the slope could be affecting your home's foundation. Grading or sloping a lawn can ensure the safety of your home, while also enhancing the health of your landscape, especially if your home has water or drainage issues. When it comes to fixing a landscape drainage problem, lawn grading is often a great solution that will ensure that the soil and area surrounding your home, receives the proper amount of water.
If your landscape is susceptible to flooding, landscape sloping and grading is often considered to provide a drainage pathway for the excess water. Dangers with improper drainage include muddy lawns, poor crop growth, flooded basements, and many other issues for homeowners.
If your garden gets flooded often, this can lead to oxygen deficient plants, causing root-rot and other various problems. Water can also penetrate the walls of your foundation and leak into your basement if your landscape is improperly sloped. Water in the foundation can create cracks and lead to dangerous mold and mildew growth. To prevent water buildup, creating a five percent slope going down from your buildings and walls can help drain excess water. If this doesn't work, other draining equipment can be installed  to divert the excess water.
Alternatively, if you live in a dry climate with clay soil, a sloping landscape could be negatively affecting your soil health. When water hits the surface of a sloped lawn with clay, brick-like soil, it will run off instead of absorbing and your roots won't receive the nutrients they need to thrive. By grading the lawn you increase the chances that your dry soil will soak up the water it needs.
Benefits of proper landscape grading, sloping and excavation include growing healthy grass and plants, a decreased risk of too much water run off, as well as gardens and lawns that require less maintenance. At Lior Excavating we provide a variety of landscape excavation services from sloping and leveling to pool and foundation excavation services. For more information feel free to give us a call and for pricing information click here for a quote.