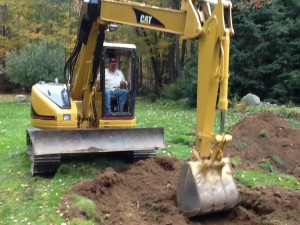 Whether you're ready to build or add an addition to your home or business, the latest excavation services can help you prepare your site safely and effectively. Here are some of the benefits you'll receive when you choose a quality excavation service for your excavation work.

Fast Services

A professional excavating service with the latest machinery can easily dig through any soil type. Some foundations need to be dug especially deep, particularly in sandy soils or in areas that require a frost-proof foundation. If your excavation takes additional time it will slow down your entire project. Keep your building or addition on schedule with the latest equipment and experienced operators.

Affordable Prices

While concrete can be costly, a large percentage of any excavation work is labor costs. It's essential that you collect quotes from the highest rated and most affordable local contractors. Hiring an affordable excavation service can save you thousands of dollars on your home or commercial project. The most affordable teams typically leverage their time with high-end machinery and highly experienced professionals.

Accurate and Dependable Services

Excavation has come a long way since the era of shovels and manual cement mixing. High-tech machinery and powerful equipment can offer unparalleled accuracy when clearing your land for a new foundation. Accurate lines and a firm, level foundation can set the pace for your entire project. Look for professionals who are able to provide accurate services everytime.

Contact a Local Excavation Service Today

If you're ready to start that new addition on your home or finally purchased land to build a new commercial structure, contact a local excavation team today for excavation work. Ask about estimates and choose the local company that provides the best rates with excellent reviews. While it's important to save money, be sure you use only the most professional and reliable services in your area to ensure a safe, dependable foundation for years to come.