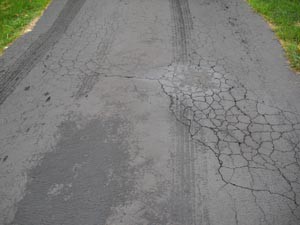 Every day, your driveway is pounded by thousands of pounds of metal rolling up and down. This can be especially trying during the cold winter months and as driveways freeze and then thaw, time and time again. Over time, all this wear begins to produce cracks and holes that break down the integrity of your driveway. Eventually, new asphalt paving becomes necessary, but the question that many homeowners are left with is whether to repair or replace. Here are some of the benefits of each and how to tell which option is best for you.
One of the biggest factors to consider is the age of your driveway. If it's approaching 20 years of age, it's probably best to replace the entire thing. Small cracks can often be mended with simple driveway repair techniques, but large cracks are indicative of bigger problems beneath the surface. A driveway that has been used for several years most likely has suffered significant damage and retains at least some wear down to the foundation. The benefits of performing an entire driveway replacement is that you won't have to worry about problems again for quite a while. While this route is more expensive, it can save additional repair costs in the future and provide you with a brand new driveway that will last for years to come.
If your driveway is not quite as old and there aren't too many cracks or holes, consider resurfacing the asphalt paving. A quicker, less expensive repair job, residential paving can extend the life of your driveway for several years at a fraction of the price of a complete replacement. This option is not recommended for driveways with significant damage, since the underlying issues will probably cause the surface to crack again soon.
Repairing your driveway with an asphalt paving resurface or replacement can increase the beauty and value of your home for years to come. If you're still unsure of what you should do, give us a call at Lior Excavating and we'll provide you with the best recommendation for your situation. For all of your driveway repair and replacement needs give us a call or click here for a quote.