The premier home renovation experts in New Haven, CT
As the premier home renovation experts here in New Haven, CT, the team at Lior Excavation are excited at the prospects of working with you. No matter if you are looking for a quick reno or simply a new kitchen, the team at Lior Excavation is your team. Below you will find some of our great services we are now offering as part of our home renovation packages.
Kitchen and Bathroom Remodeling 
As a general contractor we will be able to install new cabinetry, countertops and even install new floors such as hardwood or tile.
Basement Remodeling 
If you have been looking to finish, or just simply upgrade your basement, we are the team for the job. We are able to not only finish but also waterproof your basement to prevent issues in the future with your foundation or mold.
Sheetrocking
Sheetrock is always a bit of a messy job, let the true experts handle it at Lior Excavation and you will not have to get down and dirty!
Electrical
Electrical needs to be done right the first time, with Lior Excavation we have an on-team electrician that will make sure your electrical is top-notch.
Windows
With the team at Lior Excavation, we will ensure your window installation is waterproof and sealed correctly. We aim to provide perfect service, and a perfect window means a tight seal, and waterproof.
Plumbing
As a general contractor, we have a plumber on the team to ensure our installations or repairs are done right. From toilets to sinks to hot water tanks, our team can handle it all.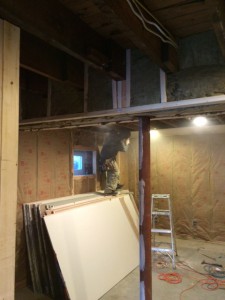 Insulation
Insulation in the attic, or even the walls needs to be done right to keep your heating bills low. With Lior Excavation, our team will ensure you are using the right insulation and that it is installed correctly.
Gutting 
The art of gutting is to ensure it is to the frame, and here at Lior Excavation we do it right. Let our team take care of the dirty work so you can complete your home renovation on time and on budget.
Remodeling Prep
Our team has been doing home renovation prep for some time, and will be able to successfully install frames, beams and prep the work area for your trade specialists.
Call our team today, and experience the difference a quality home renovation company can do on your next build, and only with Lior Excavation.